Mediven Thrombexin 18 Thigh Sock
Mediven Thrombexin 18 Thigh Sock
| | |
| --- | --- |
| Brand: | MEDIVEN |
| Product Code: | AG-THROMBEXIN18 |
| EAN: | 4026398002194 |
| Availability: | In Stock |
Mediven Thrombexin 18 is a clinical compression stocking used for the prevention of venous thromboembolism in the hospital setting.
Immobile patients have special needs during their hospital stay: muscle pump inactivity reduces the velocity of venous outflow, resulting in an increased risk of venous thromboembolism and postoperative or post-traumatic edema formation. The use of back compression has an impact on increasing the velocity of venous flow, thus preventing thrombus formation and reducing edema.


The high elasticity and the particularly soft and breathable mesh with antibacterial toecap provide a high feeling of comfort. The intelligent silicone band allows you to confirm your choice of size and provides a secure hold. The color-coding system and the smart band are an important aid in selecting the correct size and make it easier to put the sock on. The marking on the heel ensures the correct positioning of the mediven® thrombexin® 18. The heel, with a velvety inner surface, reduces the risk of pressure ulcer formation. The highly breathable mesh allows active moisture transport from inside to outside, reducing the risk of maceration.
Indications:

Prophylaxis of venous thromboembolism in immobile patients - in the pre, intra and postoperative period.
Prevention and treatment of post-operative and/or post-traumatic edema.
Contraindications (absolute):
Severe occlusive peripheral arterial disease (IPTB < 0.5, ankle artery pressure < 60 mmHg, toe pressure < 30 mmHg or TcPO2 < 20 mmHg instep).
Decompensated heart failure (NYHA III + IV).
Septic phlebitis and phlegmasia cerulea dolens and severe leg edema.


Contraindications (relative):
Exudative dermatosis.
Intolerance to compression material.
Severe paresthesia of the lower limbs.
Advanced peripheral neuropathy and chronic primary polyarthritis.
To choose your size correctly, measure your legs. Each size is associated with a color.
Elastic stockings are a medical device in which only by taking measurements can the clinically correct compression be achieved on the entire leg. Wearing one size bigger or smaller than the correct one will only make the wearer worse, take unnecessary risks, and lead to serious problems that are completely avoided by wearing the right size! Don't play with your health! Consult the article's table of measurements.
Instructions for taking measurements:
Measurements should always be taken early in the morning, the person should be standing with legs apart and weight distributed over both legs. For a Thrombexin stocking, you only need to take 4 measurements: Ankle (malleolus), calf, two fingers below the knee area (cD), in the thigh area (cG), (see the measurement table where you should take these measurements).
Size chart: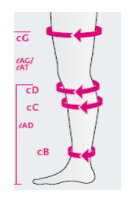 Sold by the pair.

Note: Since this is a surgical stocking, no exchanges are made.
Delivery of this product will take around 3/6 working days.