Systam Polyair Cushion 6cm - 2 Valves
Systam Polyair Cushion 6cm - 2 Valves
| | |
| --- | --- |
| Brand: | SYSTAM |
| Product Code: | P301C |
| EAN: | 3700368612224 |
| Availability: | In Stock |
The Systam brand P301C / POLYAIR® 6cm cushion is best suited for somewhat active patients of smaller stature who are able to shift their weight independently and require little or no assistance in transferring.

DESCRIPTION:
Effective, ergonomic and comfortable.
Ensures maximum contact surface by moulding to the protuberances of the sacral area. This results in an extremely effective reduction of transcutaneous pressure values.
POLYAIR® is an effective solution for pressure ulcer prevention in high-risk areas and assists in the healing of existing ulcers.
POLYAIR® is equally effective against the effects of maceration, friction and shear as a result of: adequate ventilation in the areas at risk; reduction in tissue deformation;
Increased stability as a result of its honeycomb design.
Operating principles:
Adapts to the user's morphology
Reduces pressures by increasing the contact surface.
The POLYAIR® adapts to all anatomy types, particularly as a result of its internal ventilation channel, allowing the cushion to adjust quickly to the user's morphology and preventing tissue breakdown.
Cellular independence and mobility
Provides an effective anti-shear action.
Ensures uniform distribution of pressure in all compartments.
Reduction in the effects of maceration
Ventilation channels provide adequate ventilation.
Two independent compartments.
The two compartments (left and right) act independently and can be inflated with the same or different pressures different pressures;
Useful to correct pelvic unevenness allowing, simultaneously, better stability and comfort.
Electronic pressure gauge.

Allows you to inflate and deflate the cushion, at the same time indicating its internal pressure level.
INDICATIONS:
1 - When there are already pressure ulcers (degree I to IV according to the EPUAP).
2 - When there is a very high risk of developing pressure ulcers (according to the Braden, Norton, Waterlow,...).
CHARACTERISTICS:
Laxprene®: an innovative material.
Adaptability.
Resistance to tearing.
Pressure-resistant.
Removable POLYMAILLE® cover.
Non-slip base - Image 1;
Material impermeable to liquids, but permeable to gases;
Reduces maceration effect by allowing skin to breathe;
Side holes - Image 2: allows the valves to be pushed into the cover after inflating the cushion; facilitates air circulation between the inside and outside of the cover, reducing the maceration effect.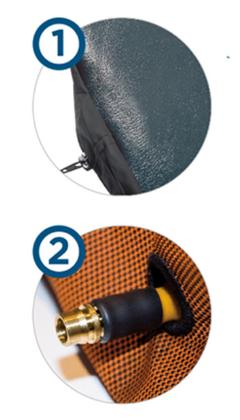 SYST'AM® INNOVATION WITH ITS ONE-HANDED INFLATION SYSTEM FOR SIMPLE AND EASY ADJUSTMENT
Pressure meter entirely designed and manufactured by SYST'AM®, specially produced by our R&D department for use with the POLYAIR® cushion.

Totally electronic, the measuring system is extremely precise and specifically calibrated to measure the micro pressures inside the POLYAIR® cushion.
Unlike membrane-type pressure gauges (such as those adapted from cardiology instruments), measurements are not only more precise with an electronic sensor, but are also more reliable and reproducible, since there is no risk of deformation or wear of the membrane. As a result, insufflation is much more accurate. Easy adjustment, even for inexperienced users.
To adjust the pressure when deflating, simply press a button.
The new design makes the accessory more ergonomic, lighter, simpler and easier to use.
The cushion can be controlled by the user at any time if needed.
One-hand pump and plug connector.
An improperly adjusted inflation impedes the effectiveness of the air cells in the cushion.


Conclusions:
Over-inflated or under-inflated cushions can lead to pressure sores.
As the variations in inflation within each compartment (a few MmHg) cannot be detected by touch, the only way to correctly inflate air cell cushions is to use inflation gauges, such as a pressure gauge.
Only the manometer is able to take into account the weight and contact surface of the patient with the cushion. This method, which gives consistent results, ensures effective prevention.


Available sizes / Maximum user weight:

40x40x6cm / 80Kg
40x43x6cm / 90Kg
43x43x6cm / 110Kg
46x40x6cm / 120Kg
The delivery time for this product is approximately 5/10 working days.