Surgical Sleeves for Brachioplasty VOE 1008Z
Surgical Sleeves for Brachioplasty VOE 1008Z
| | |
| --- | --- |
| Brand: | VOE |
| Product Code: | VOE1008Z |
| EAN: | 8435353324275 |
| Availability: | In Stock |
Indications:
Indicated for brachioplasty and arm liposuction.
Function:
The sleeves allow strong and constant compression on the arms in the intervened area, help to reduce swelling, as well as provide comfort.
VOE® sleeves are manufactured in a compressive mesh that aids in the healing process. The sleeves follow the entire arm, with a zipper that runs almost the entire length of the sleeve (opposite the scar), making it easy to put on/take off. The two sleeves are fastened with brackets at the back, near the nape of the neck. They are adjusted at the front with an elastic band that can be adjusted (like a bra strap) to ensure the correct position of the sleeves.
IMPORTANT NOTE: This article, being a post-surgical product, is not exchangeable or returnable.
Size Chart: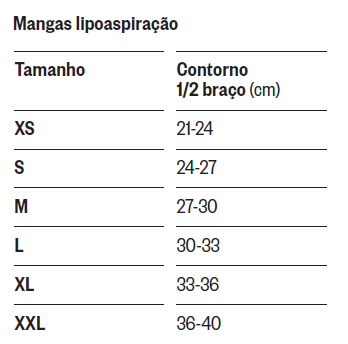 The delivery of this product will be around 5/10 working days.